Camarillo SDA Church
3975 E  Las Posas Rd
Camarillo CA 93010-2533
Pastor Pro Temp Greg Hoenes                                                           
Camarillo SDA Church
Join Us This Saturday
Service times:
Sabbath School: 9:30 am
Worship Service: 10:45 am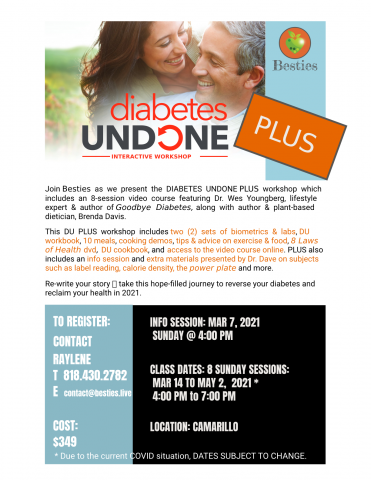 Welcome to the Camarillo SDA Church in Camarillo, CA. We are a Christian community and would love to have you join our family. To learn more about what we believe you can visit our About Us page. Please join us for Bible study, worship, and prayer.
Church In the Parking Lot (Weather Permitting)
Please make sure to wear your Mask and also Social Distance.
Also please bring your own water if you need something to drink                                                    
Church At Worship 10:45 am
 OUR FOOD PANTRY IS NOW OPEN every SATURDAY from 3-5pm in the church parking lot. DRIVE-THRU. Face coverings required.

Hello Friend,
     To help protect our members and visitors from the COVID-19 pandemic, our indoor church events have been postponed until further notice.   However, we want to welcome you and keep in touch!  You're invited to view our online services, which you can access through live stream and archives:
  And currently we offer:  OUTDOOR CHURCH in the parking lot.
  
     Health restrictions require that the 6 ft. social distancing applies to non-family members at all times. We will be separating spaces by parking squares to insure that families can keep a safe distance from one another. Visitors are invited to join us. 
     Please bring a MASK and your own WATER. The drinking fountain will be closed off from usage during the service to limit potential spread of COVID-19.  We would also encourage you to bring your own chairs if you wish to be seated near your vehicle, or on a shady place on the lawn. 
     Finally, if you have a family member, or you yourself, are at high risk, please consider staying home during this time. We are taking precautions, but there is no guarantee that attendees are all COVID free.
     Stay safe, and may the Lord bless you and your loved ones.
                                                                                             Music Copyright Info
WATCH ONLINE: Church and Sabbath school may be watched online Live each week - Sabbath School 9:30 AM PST and Church At Worship 10:45 AM PST. Adobe Flash required. Used by Permission WC#7621 Also used by Permission CCLI# CSTL#011263